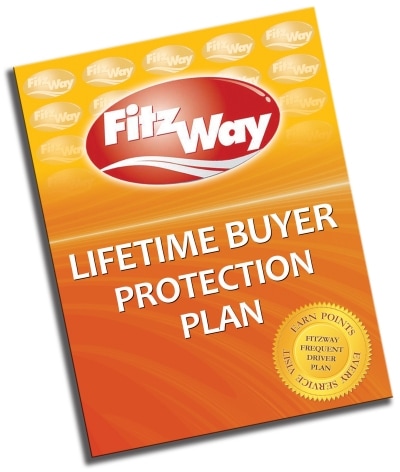 We are excited to offer our new Lifetime Buyer Protection Plan when you purchase a new or used vehicle from Fitzgerald Auto Malls. We are committed to building a long-term relationship with you. Your investment will repay itself many times over the lifetime of your vehicle, and is transferable if you sell your car. You will save time and money with regular vehicle inspections and preventive maintenance. All your service needs will be handled by our service departments and certified technicians; from routine maintenance, such as oil changes, tires, and brake service, to the most complex repairs.
PROTECT
Protect Yourself from the Unexpected
The lifetime Buyer Protection Plan is designed for you. Your coverage is based on the most common problems that drivers face. *
SAVE
Save Money Over the Lifetime of Your Vehicle
MAINTAIN
The lifetime Buyer Protection Plan helps reduce maintenance and repair costs not covered by the factory warranty. The program increases the resale value of your car and is transferable to whomever owns your vehicle.
Maintain the Performance of Your Vehicle
Our No Charge Maintenance Inspection Program helps to prevent the inconvenience caused by breakdowns or vehicles that will not start.
NO CHARGE
Guaranteed Lifetime Loaner Car
Fitzgerald Auto Malls will provide you with a loaner car for any service or repair visit to our dealerships ?
FitzWay LIifetime Loaner Program
Purchasing the Lifetime Buyer Protection Plan automatically
enrolls you in the FitzWay Lifetime Loaner Program. We
guarantee a Lifetime Loaner Car with ANY service or repair visit.
Our Program is Better
At other dealers, you get a loaner for your warranty repair visits.
The FitzWay Guarantees a loaner for your regular and emergency
repair and service visits as well!
Convenient
We will provide you with a loaner car for your service AND
repair visits.
Fast
You never have to wait for your loaner car. Our fleet includes
over 400 clean, late-model rental cars.
Easy
Contact the Service Department to make an appointment.
You have our commitment that we will try our best to work
with YOUR schedule.
Lifetime Buyer Protection Program
Includes:
Loaner Car for Life
Preventive Maintenance Inspection
Lifetime $35 Vouchers
(One voucher issues every 90 days)
Guaranteed Best Price on Tires
Check Engine Light Diagnosis
10% off accessories
Cooling System Pressure Check
New or Used Car Discount
Electrical System Check
AC and Heating Inspection
Towing Discount
Body Repair Discount
See your Sales Consultant for more details.